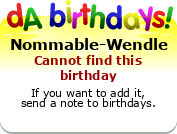 Hey there guys I'm Linda a.k.a NommableWendle but you guys can call me Wendle, Linda

take your pick! I'm currently 18 and just finished highschool. I also have a Facebook page dedicated to art as well, called Simple Designs, if you're interested in it of course!


I've got dark blonde hair and have blue eyes, I'm about 5 ft. 4 or 5. I've currently have got four helix piercings and a forward helix on my right and left ear, my left Tagus and I've got up to my thirds on my lobes.


I use pastels, paint, pens, pencils, watercolour pencils, photography and digital art with my artsy stuff; I just recently bought an iPad so I've also been using that to create some awesome designs. I'm also a novice writer, with hopes to publish my own book someday in the big wide world


Rock, metal, heavy metal, alternative, the occasional pop hit – much better than anything else in my opinion.


I play netball and volleyball five days a week, as well as practically working full time.


I'm an amateur cosplayer with a long list of characters to dress up as including Slenderwoman (female Slenderman),Princess Rosalina, Female Thor and Fiona the Human.


Shoutout to one of my dearest friends

go check out his radical photography!


I proudly support the Butterfly Project


The Rules are:
1. When you feel like you want to cut, take a marker, pen, or sharpies and draw a butterfly on your arm or hand.
2. Name the butterfly after a loved one, or someone that really wants you to get better.
3. You must let the butterfly fade naturally. NO scrubbing it off.
4. If you cut before the butterfly is gone, you've killed it. If you don't cut, it lives.
5. If you have more than one butterfly, cutting kills all of them.
6. Another person may draw them on you. These butterflies are extra special. Take good care of them.
7. Even if you don't cut, feel free to draw a butterfly anyways, to show your support. If you do this, name it after someone you know that cuts or is suffering right now, and tell them. It could help.


I support EQUALITY


Love Is Love
♂ + ♂ = ♥
♀ + ♀ = ♥
♀ + ♂ = ♥


I hope you enjoy my art pieces!











</a


<a